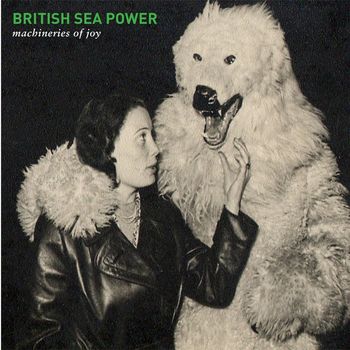 Album vorhören Machineries of Joy
Erscheinungsdatum:
18.02.2021
7digital

Was wir davon halten:

Die in Brighton, England, lebende Band ist wohl vor allem durch ihre legendären Liveauftritte bekannt. Doch was wären Konzerte, ohne das passende und vor allem packende Material? Und dafür sorgen British Sea Power einmal mehr mit ihrem bereits neuntem Studioalbum Machineries of Joy. Mit ihrem letztem Album wurden sie für den Mercury Award nominiert, und es scheint, als ob sie ihrem Erfolgsrezept auch mit dem neuen Album treu bleiben. Man kann sich vielleicht nicht wirklich mit allen Themen des Albums identifizieren (Franziskanermönche, erotische Bodybilderinnen), musikalisch gesehen bleibt jedoch alles beim Alten. Epischer Shoegaze und rauschender Gitarrenpop vom Feinsten.
| Tracknummer | Songtitel | Songlänge | Preis |
| --- | --- | --- | --- |
| 1 | Machineries of Joy | 6:16 | |
| 2 | K Hole | 3:23 | |
| 3 | Hail Holy Queen | 3:18 | |
| 4 | Loving Animals | 5:08 | |
| 5 | What You Need the Most | 5:40 | |
| 6 | Monsters of Sunderland | 3:09 | |
| 7 | Spring Has Sprung | 3:52 | |
| 8 | Radio Goddard | 3:17 | |
| 9 | A Light Above Descending | 4:09 | |
| 10 | When a Warm Wind Blows Through the Grass | 4:38 | |
Gesamtspielzeit:

42:50
Genres:
℗ Rough Trade Records Ltd
© Rough Trade Records Ltd