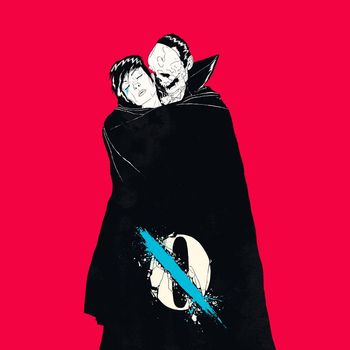 Album vorhören ...Like Clockwork
Erscheinungsdatum:
31.05.2013
7digital

Was wir davon halten:

6 Jahre lang hat Josh Homme sich Eagles of Death Metal und Them Crooked Vultures gewidmet, jetzt ist er allerdings endlich wieder mit den Queen of the Stone Age unterwegs. Das Nachfolgealbum zu Era Vulgaris steht in den Startlöchern. Der Albumtitel klingt vielleicht ein wenig nach Druck, aber das kann man dem Album ganz und gar nicht anhören. Eine Vielzahl an Ideen wurden miteinander vereint: vom dreckigen Groove auf "Smooth Sailing" bis hin zu jede Menge Guest Vocalist wie etwa Trent Reznor, Mark Lanegan, Dave Grohl und Elton John (!) und Jake Shears. Sich dabei nicht von diesen großen Namen überschatten zu lassen beweist einmal wieder mehr was für ein gigantischer Frontmann Josh Homme wirklich ist.
| Tracknummer | Songtitel | Songlänge | Preis |
| --- | --- | --- | --- |
| 1 | Keep Your Eyes Peeled | 5:04 | |
| 2 | I Sat By The Ocean | 3:55 | |
| 3 | The Vampyre Of Time And Memory | 3:34 | |
| 4 | If I Had A Tail | 4:55 | |
| 5 | My God Is The Sun | 3:55 | |
| 6 | Kalopsia | 4:38 | |
| 7 | Fairweather Friends | 3:43 | |
| 8 | Smooth Sailing | 4:51 | |
| 9 | I Appear Missing | 6:00 | |
| 10 | ...Like Clockwork | 5:24 | |
Gesamtspielzeit:

45:59
Genres:
℗ 2013 Matador Records Limited
© 2013 Matador Records Limited