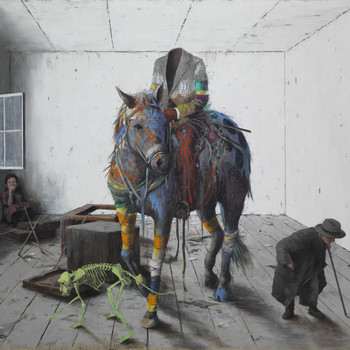 Album vorhören The Road, Pt. 1
Erscheinungsdatum:
18.08.2017
7digital

Was wir davon halten:

James Lavelle hatte noch nie Probleme damit, neue Projekte für sich zu entdecken: Von Filmmusik schreiben bis hin zur Gründung und dem Management seines Imprints Mo'Wax. Es ist also kein Wunder, dass der UNKLE Frontmann sieben Jahre gebraucht hat, um das Nachfolgealbum zu Where Did the Night Fall zu kreieren. Dieses fünfte Album kennzeichnet offiziell den Beginn UNKLEs als Solo-Act – auch wenn es sorgfältig ausgesuchte Gastauftritte von Mark Lanegan, Eska, Keaton Henson und Primal Scream-Gitarrist Andrew Innes gibt. Auch 20 Jahre nach Psyence Fiction – Lavelle ist und bleibt ein Meister der eindringlichen Atmosphäre.
Tracknummer
Songtitel
Songlänge
Preis
1

Iter 1 – Have You Looked at Yourself?

von UNKLE

0:49
2

Farewell

von YSÉE

6:16
3

Looking for the Rain

von Mark Lanegan

6:01
4

Cowboys or Indians

von Elliott Power

6:20
5

Iter 2 – How Do You Feel?

von UNKLE

1:06
6

No Where to Run/Bandits

von UNKLE

5:34
7

Iter 3 – Keep on Runnin'

von UNKLE

0:56
8

Stole Enough

von Mïnk

3:09
9

Arms Length

von Elliott Power

4:56
10

Iter 4 – We Are Stardust

von UNKLE

0:59
11

Sonata

von Keaton Henson

5:18
12

The Road

von Eska

6:22
13

Iter 5 – Friend or Foe

von UNKLE

0:33
14

Sunrise (Always Comes Around)

von Liela Moss

6:42
15

Sick Lullaby

von Keaton Henson

4:33
Gesamtspielzeit:

59:34
Genres:
℗ Songs For The Def
© 2017 Songs For The Def